Feature: Craftsmanship
XAVIER GARCIA: A FLAIR FOR GENUINE BARCELONA DESIGN
Photography BERT SPANGEMACHER
Text JUSTIN ROSS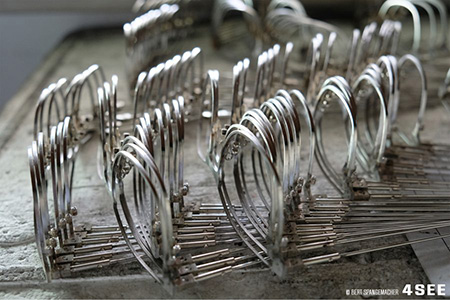 Speed isn't always about being fast. Barcelona-brand Xavier Garcia is a firm believer in a "slow design" process, recognizing the time it takes to perfect a product and the gradual nature of the evolution of a brand. Over the past ten years, Xavier Garcia has made his eponymous company a symbol of his own exquisite sense of design, a reflection of Barcelona's diverse visual cultures, and a person and a brand that embodies all of the characteristics of Barcelona's 21st-century authenticity, charm, and down-to-earth cool. The story of Xavier Garcia is also the story of Barcelona—of rebirth and regeneration spurred by creativity and innovation.
Xavier Garcia's new headquarters are at the epicenter of Barcelona's newest destination neighborhood, the 22@, which, like the brand, is constantly in a state of dynamic transformation. This is a neighborhood where many of Barcelona's best fashion ateliers and startups have chosen to set up shop in converted industrial lofts—a vibe that feels very familiar to us from Berlin, only that they have one major advantage … the beach is just minutes away.
Xavier: "In this area, there were many light industries before. Now people are coming here, artists, designers, and fashion people. Also tech startups."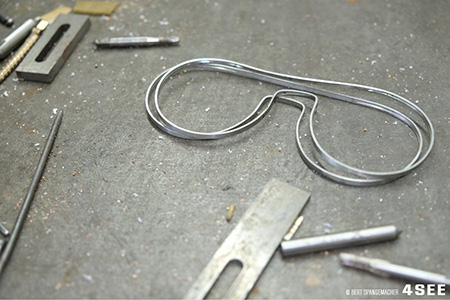 The 22@ in Barcelona is many things: a symbol of modernity, a converted industrial neighborhood, and a proud part of Barcelona's post-Olympic regeneration success story. Nuria Antolí, Xavier Garcia's Brand Manager / Head of Communications, and an integral part of the Xavier Garcia success story for the past decade has a deep sense of belonging to the area:
Nuria: "Before, during the Franco era, the factories had their backs to the sea—Barcelona had to be blind to the beach. When we had the Olympic games here in Barcelona, our mayor had a project to rebuild this whole area. All the factories that were just three meters in front of the beach were torn down. Now, this area is just so beautiful because it has become a very residential area directly in front of the beach."
Part of the charm of Xavier Garcia is its authentic connection with Barcelona and the city's spirit of creativity and freedom of expression. When it comes time for the creative marketing team to build out their promotions for the season they always draw from the resource that is closest to them—the talented people from their networks of friends, musicians, designers, illustrators, and artists among them. They have collaborated with well-known artists such as Javier Mariscal who made the mascot of the Olympic games, which the city hosted in 1992. Other times they have got in at the ground level with budding artists and illustrators like Conrad Roset, who, since illustrating Xavier Garcia's main promotional campaign in 2012, has gone on to worldwide fame and recognition. The uniquely creative character of this brand shines through and it is owing to Xavier Garcia's deep roots in Barcelona's creative community.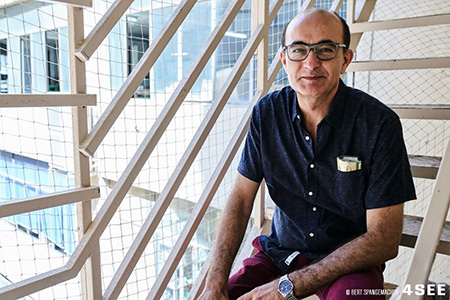 Xavier: "If you live here you are influenced by the city" Nuria: "Xavier Garcia, of course, it is a brand but behind it is a person that gets influenced by the design, the culture, the activities, the music, everything that is happening here."
The building which houses Xavier Garcia's headquarters has a strong sense of history as well. It hails from the seventies and some of their neighbors are still the original tenants including a button maker directly next door. Opting to convert a portion of their office space into production space, the brand new atelier is a kind of twenty-first-century creative lab for hands-on experimentation, with all the tools you would need—including a laser cutter to rapidly turn designs into tangible prototypes. This also allows the design team at Xavier Garcia to get a feel for the curves and angles that are so important to both the look and feel of a pair of frames. And so, in a way, Xavier Garcia is keeping up this tradition of combining design, creativity, and production under one roof.
Xavier: "Many years ago I designed jewelry with these tools. Then the eyewear business became so absorbing that I didn't have time, but now I'm encouraging the design team to leave the computer and begin doing things by hand because you can see so many things that are not on the screen."
It makes sense that an eyewear company started by a designer trained in the meticulous art of jewelry construction would value aspects of materiality and physicality. With this in-house atelier space, Xavier Garcia is emphasizing the importance of that creative place where technology meets human hands.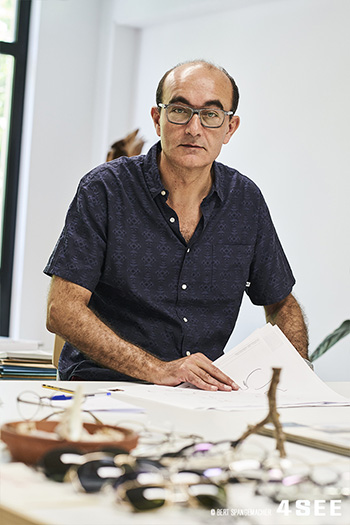 Xavier: "I've been developing design always and our design process is really powerful in terms of image and in terms of concept. It is totally free, this is what I like." Nuria: "It is encouraging for the design team, it is like fresh air, an open mind with the power of creativity 100%"
There is a palpable buzz in the office while we visit. As agents and salespeople are busily chatting away, delivery boxes are being packed and piled ready to be shipped out across the world from their on-site packing and shipping center, which processes orders and distribute them to their stores and partners in Europe, Canada the USA, and Australia. It is here that the 60+ styles (30 acetate, 30 metal and 10 sunglasses) that make up the entire range of Xavier Garcia frames—from a recently released monochrome collection to the new adventures in metal frames and, of course, the exactingly chosen, colorful acetates they are famous for—are carefully stored and kept, waiting for their eager customers to take them home at their destination.
The workday starts early at 8am but, in exchange, Fridays are half-days to get out and enjoy the beautiful Barcelona weather. This leads to a culture that is both laid-back and professional, with a real sense of purpose.
Xavier: "Barcelona is an open-minded city with a Mediterranean lifestyle. What does that mean… I'm not sure, it is hard to put into words but it is inside me."
It might be hard to put into words because rather than any one thing it is a feeling—a culture that values beauty and an emotion that brings a smile to your face when you look at or look through a pair of Xavier Garcia glasses. These are exciting times for this quintessentially Barcelona brand and for Xavier Garcia himself. They are tight-lipped about it for now but they are hard at work on a new project to showcase what the brand is best at—creating easygoing and joyful designs that represent creativity and craftsmanship at its finest with the visionary reach of the man who created the brand and whose personal name is on every pair of glasses.